Products
Jump to:
In the Kitchen | In the Woods | On the Water
Kitchen knives
I chose to concentrate on kitchen knives because I understand that nourishing food is vital to our physical and spiritual well-being, while sharing meals brings together family and community. By making kitchen knives that work well, feel right and look good, I hope not only to increase the pleasure cooks derive from preparing food, but also to enhance its sacramental aspect.
Stone Soup "Green River" series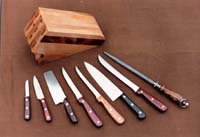 "Green River" series

Blades on these knives come from the famous Russell Harrington "Green River" works. Available in either 440C or high carbon, with hardwood handles and brass or nickel silver rivets.
These are really good blades: Russell Harrington is the oldest US cutlery manufacturer. When I travelled the US sharpening knives for restaurants, these were the knives whose edges held up best. Use of a stock blade, with my own hand-shaped handles, results in a custom-quality knife at a price similar to high-end mass-produced knives like Haenkels, Sabatier and Global.

Deluxe series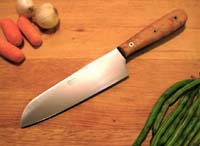 Same great blades but with fuller, more sculpted handles using lengthwise laminations of contrasting hardwoods, such as birdseye maple and purpleheart or tulipwood and ebony, and fastened with decorative pins.
Choosing a kitchen knife

A chef knife is the most used and versatile knife in a cook's 'batterie de cuisine'. In restaurants, blades may be as long as 14 inches, but a 7 to 8 inch blade is plenty for most purposes.

If you do a lot of chopping and dicing an oriental style chopper, called a sentoku, is a great choice and can be used instead of a chef knife.

Complement this with a small utility knife and an 8 to 9 inch narrow bladed slicing knife and you have a basic, all-purpose set.

A serrated slicer works best on bread, especially if you bake your own.

A small paring knife is essential for garnishing and if you do much peeling or canning, or just like to cut vegetables straight into the pot.

Knives with narrow flexible blades from 6 to 9 inches long, known as fillet knives, are designed primarily for filleting fish. They can also be used to cut up meat and poultry, but knives with shorter, stiffer blades, known as boning knives, are more suited to this purpose.

For carving, either at the table or in the kitchen, choose a long, slightly upswept slicing knife.
Ordering: Nowadays I mostly make to order. I have a few knives in stock. Contact me via email for photos and prices.
Outdoor knives
Sturdy, functional working knives to use in the shop, up in the mountains, and out on the water. Full tang, 440c or high carbon blades, hardwood handles, fastened with bolts. With right or left hand sheaths.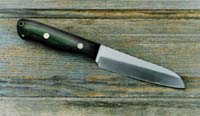 All purpose camping knife
This 6" long, 3/32" thick blade is all you need on a camping trip - sturdy enough to shave kindling yet fine enough to cut up fish and veggies for a stir fry. Makes a great kayaking knife too.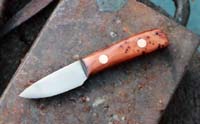 Shop knife
From cutting string to marking sharp lines for woodworking you'll find no end of uses for these little gems.
Boating and Rigging knives
Savvy boaters know to carry a sharp knife in case a line needs to be cut in a hurry. Basically a sturdy utility knife but with a rounded tip for safety.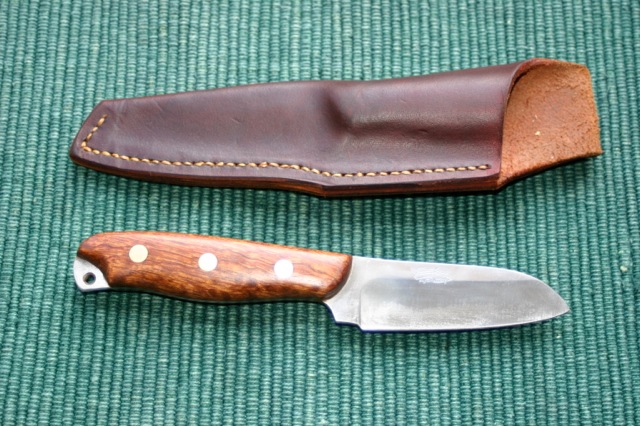 Currently I make two styles of boating knives, one with a stock blade, the other with my own handground blades. I'm especially proud of these, my own design based on lots of sailing experience and discussions with professional riggers. Rugged construction, superior edge holding. 440C or ATS34, choice of handle material. With sheath and optional spike.

Fillet knife
Blades are 6 to 9" long, moderate flex, 440c with subzero quench. Choice of hardwood or composite handles. Lanyard hole.